Children
Fun, functional and adaptable, a child's room must be able to grow with its occupant. It must also help the child to thrive, offering them, in that one room, all the comfort they need to sleep, play, work and receive their friends.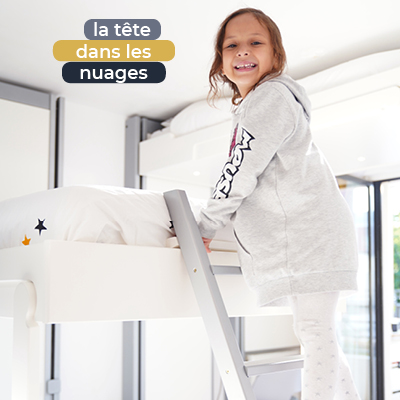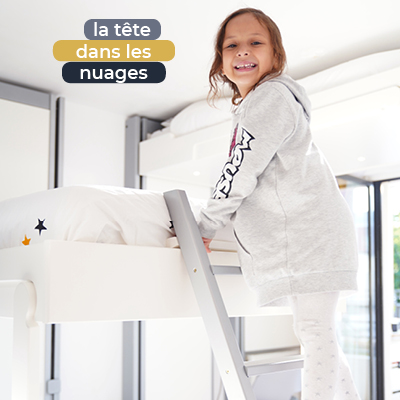 Head in the clouds
Every child dreams of a tree house. If they cannot build one in a tree, they turn a mezzanine into a castle in the sky, where they sleep safely in their own nest up above, while they make the cabin below their own.
Espace Loggia offers parents, with their feet firmly on the ground, a wide choice of models. The Modulable mezzanine is the most adaptable of them all. Over the years, it can be adjusted for height and width until it becomes the first adult item of furniture.
With pull-out beds, you can also create sleeping arrangements of different heights. More inspiration: discover our layout of a 12 m2 bedroom for three girls.
"It's amazing what we can do with Espace Loggia".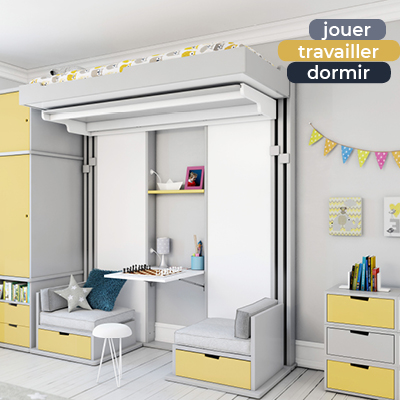 The Triptych: one, two, three…
Espace Loggia offers a children's or teenager's version of its best-selling triptych.
Ingenious, with a double mechanical lifting system, the Triptych provides 3 spaces in 1 piece of furniture: a pull-out bed with a real bed, a large desk for evening homework or creative work, and a space with two heaters and a shelf for playing dinette and welcoming friends.
Sleep, work and play all in one small room. The reliable system is secure and fully mechanical.
Claiming one's territory
When the family grows faster than its home, bedrooms must be shared. The most obvious way is to transform a mezzanine bed into bunk beds, with Brick© units below, forming the base of a new toy-chest bed. A layout of several mezzanines can also be used to define boundaries that best support the personality of each child. In an installation for twins, Espace Loggia provided two symmetrical mezzanines fitted with desks and cupboards. However, for two sisters, our advisers preferred to go for an asymmetrical design. The older sister had a high mezzanine with a large desk integrated below it. The younger sister had a low-level mezzanine supplemented with shelving and a writing desk.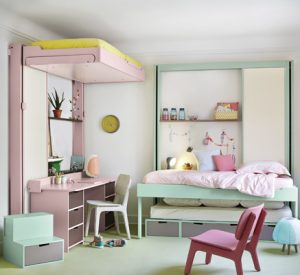 Brick© completes the picture. For the youngest, they create a safe staircase that also serves as storage space. For taller children who prefer to climb the ladder, the blocks become bedside cabinets or chests of drawers or sofa beds, or even desk drawers. With just a few pieces of furniture, it's possible to create a totally modular room that can be transformed to suit your child's needs.
A choice of pastel colours
The tremiere, pink as candy floss, mallard blue, celadon green and Tyrian purple, are some of the colours on Espace Loggia's chart that are most suitable for young children.
Modern pastel colours set the tone for a gentle, comforting decor.